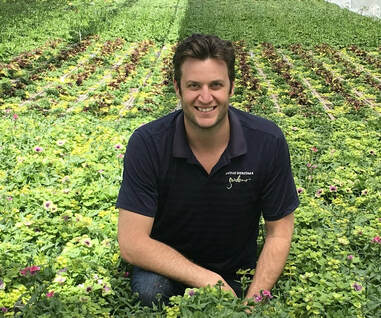 DUTCH HERITAGE GARDENS cultivates a creativity and quality that believes flowers bring inspiration to all people and should be a part of daily life. As third-generation greenhouse growers, we want to share that inspiration with you. Family owned and operated since 2006, our dedication to producing superior plants elevates our products, delivering an experience unmatched in the area. At an elevation of 7000 feet, we passively cool and strengthen all our plants to capture the high light intensity; this process creates healthy, vibrant plants that flourish in our unique Colorado climate. 
CUTTING-EDGE TECHNOLOGY

Implementing cutting-edge technology and staying on the cusp of sustainability practices propels us forward. Our investment in innovation translates into best practices, high standards, and top-of-the-line care for our plants which results in a product of integrity our customers feel good about. 

Our current 17-acre state-of-the-art facility (previously 12 acres in 2021) features various environmentally friendly elements. Our mission of going green encompasses key eco-friendly attributes that include: energy-efficient furnaces, controlled automated irrigation systems, networks designed to utilize recycled water, and environmentally-conscious growing mediums. We purchase energy-efficient, environmentally- friendly materials from local companies made from recycled materials whenever possible. 

​Our dedication to innovation also means we staff our greenhouses with distinguished experts in the field. We encourage our growers to dedicate time to learning, exploring, and staying current on cutting-edge methods for growing. By organizing educational seminars on site and visiting other growing facilities, we stay ahead of the trends, making sure our staff remain on the forefront of technology and practices. Through continual engagement, our growers realize their full potential and focus on delivering outstanding products to our consumers. 

We aim to make beauty accessible to everyone. Capturing color and life with aesthetically interesting design, we offer our customers more than just something pretty; we offer them inspiration and art. Our inventory includes a wide variety of products ranging from industry staples for the hands-on gardening enthusiast to unique upscale garden designs for more discerning tastes. We continually strive to preserve our vision of offering unique products with flair that inspire our customers to see and experience the beauty of gardening.